<!DSeptYPE HTML PUBLIC "-//W3C//DTD HTML 4.01 Transitional//EN">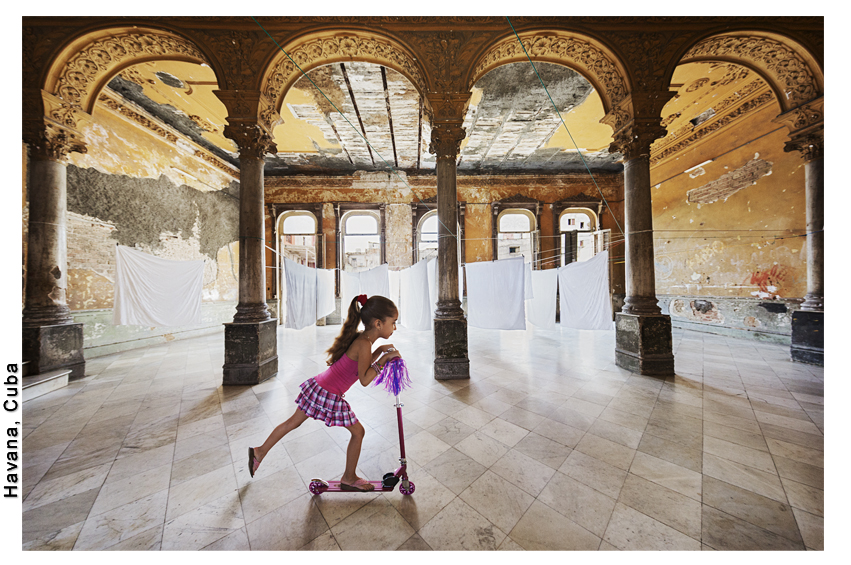 Go here for details on Lorne's December 2017 Cuba trip.

If you'd like to see more of Lorne's images please visit http://www.lorneresnick.com

For select previous Museletters, go here.

This Museletter is about creativity in all its forms. It includes excerpts, stories, quotations and various musings designed to educate, motivate, inspire and to be pondered & enjoyed.

As well as shooting commercial projects on location and in the studio for advertising clients, Lorne has recently published a fine art photo book on his 21-years of shooting in Cuba, available here. He also teaches travel photography workshops throughout the world.

Here's what's inside this issue:
1. Dog-dumb. Art, I just don't get it - the case for learning art.
2. Travel Photography Workshops: (Cuba, Africa, Los Angeles)


"True art, when it happens to us, challenges the 'I' that we are." Jeanette Winterson

1. Dog-dumb. Art, I just don't get it - the case for learning art.
From the essay titled "Art Objects" by Jeanette Winterson.
My lack of interest was the result of the kind of ignorance I despair of in others. I had fallen in love and I had no language. I was dog-dumb. The usual response of "This painting has nothing to say to me" had become "I have nothing to say to this painting." And I desperately wanted to speak. Long looking at paintings is equivalent to being dropped into a foreign city, where gradually, out of desire and despair, a few key words, then a little syntax make a clearing in the silence. Art, all art, not just painting, is a foreign city, and we deceive ourselves when we think it familiar. No-one is surprised to find that a foreign city follows its own customs and speaks its own language. Only a boor would ignore both and blame his defaulting on the place. Every day this happens to the artist and the art. We have to recognize that the language of art, all art, is not our mother-tongue.
I do not believe that art (all art) and beauty are ever separate, nor do I believe that either art or beauty are optional in a sane society. That puts me on the side of what Harold Bloom calls "the ecstasy of the privileged moment." Art, all art, as insight, as rapture, as transformation, as joy. Unlike Harold Bloom, I really believe that human beings can be taught to love what they do not love already and that the privileged moment exists for all of us, if we let it. I have to work for art if I want art to work on me.
What has changed is my capacity of feeling. Art opens the heart. When was the last time you looked at anything, solely, and concentratedly, and for its own sake? … We find we are not very good at looking.
If I can be persuaded to make the experiment again (and again and again), something very different might occur after the first shock of finding out that I do not know how to look at pictures, let alone how to like them. Art has deep and difficult eyes and for many the gaze is too insistent. Better to pretend that art is dumb, or at least has nothing to say that makes sense to us. If art, all art, is concerned with truth, then a society in denial will not find much use for it… We avoid painful encounters with art by trivializing it, or by familiarizing it.
We are an odd people: We make it as difficult as possible for our artists to work honestly while they are alive; either we refuse them money or we ruin them with money; either we flatter them with unhelpful praise or wound them with unhelpful blame, and when they are too old, or too dead, or too beyond dispute to hinder any more, we canonize them, so that what was wild is tamed, what was objecting, becomes Authority. Canonizing pictures is one way of killing them. When the sense of familiarity becomes too great, history, popularity, association, all crowd in between the viewer and the picture and block it out. Not only pictures suffer like this, all the arts suffer like this.
The calling of the artist, in any medium, is to make it new. I do not mean that in new work the past is repudiated; quite the opposite, the past is reclaimed. It is not lost to authority, it is not absorbed at a level of familiarity. It is re-stated and re-instated in its original vigor. Leonardo is present in Cézanne, Michelangelo flows through Picasso and on into Hockney. This is not ancestor worship, it is the lineage of art. It is not so much influence as it is connection.
The true artist is connected. The true artist studies the past, not as a copyist or a pasticheur will study the past, those people are interested only in the final product, the art object, signed sealed and delivered to a public drugged on reproduction. The true artist is interested in the art object as an art process, the thing in being, the being of the thing, the struggle, the excitement, the energy, that have found expression in a particular way. The true artist is after the problem. The false artist wants it solved (by somebody else). If the true artist is connected, then he or she has much to give us because it is connection that we seek. Connection to the past, to one another, to the physical world… A picture, a book, a piece of music, can remind me of feelings, thinkings, I did not even know I had forgot.
Whether art tunnels deep under consciousness or whether it causes out of its own invention, reciprocal inventions that we then call memory, I do not know. I do know that the process of art is a series of jolts, or perhaps I mean volts, for art is an extraordinarily faithful transmitter. Our job is to keep our receiving equipment in good working order.
There are no Commandments in art and no easy axioms for art appreciation. "Do I like this?" is the question anyone should ask themselves at the moment of confrontation with the picture. But if "yes," why "yes"? and if "no," why "no"? The obvious direct emotional response is never simple, and ninety-nine times out of a hundred, the "yes" or "no" has nothing at all to do with the picture in its own right.
"I don't understand this poem", "I never listen to classical music", "I don't like this picture" are common enough statements but not ones that tell us anything about books, painting, or music. They are statements that tell us something about the speaker. That should be obvious, but in fact, such statements are offered as criticisms of art, as evidence against, not least because the ignorant, the lazy, or the plain confused are not likely to want to admit themselves as such. We hear a lot about the arrogance of the artist but nothing about the arrogance of the audience. The audience, who have not done the work, who have not taken any risks, whose life and livelihood are not bound up at every moment with what they are making, who have given no thought to the medium or the method, will glance up, flick through, chatter over the opening chords, then snap their fingers and walk away like some monstrous Roman tyrant.
An examination of our own feelings will have to give way to an examination of the piece of work. This is fair to the work and it will help to clarify the nature of our own feelings; to reveal prejudice, opinion, anxiety, even the mood of the day. It is right to trust our feelings but right to test them too. If they are what we say they are, they will stand the test, if not, we will at least be less insincere.
When you say "This work has nothing to do with me." When you say "This work is boring/pointless/silly/obscure/élitist etc.," you might be right, because you are looking at a fad, or you might be wrong because the work falls so outside of the safety of your own experience that in order to keep your own world intact, you must deny the other world of the painting. This denial of imaginative experience happens at a deeper level than our affirmation of our daily world. Every day, in countless ways, you and I convince ourselves about ourselves. True art, when it happens to us, challenges the "I" that we are.
The solid presence of art demands from us significant effort, an effort anathema to popular culture. Effort of time, effort of money, effort of study, effort of humility, effort of imagination have each been packed by the artist into the art.
I worry that to ask for effort is to imply élitism, and the charge against art, that it is élitist, is too often the accuser's defense against his or her own bafflement. The only way to develop a palate is to develop a palate. The fashion for dismissing a thing out of ignorance is vicious. In fact, it is not essential to like a thing in order to recognize its worth, but to reach that point of self-awareness and sophistication takes years of perseverance.
I am sure that if as a society we took art seriously, not as mere decoration or entertainment, but as a living spirit, we should very soon learn what is art and what is not art. If we sharpened our sensibilities, it is not that we would all agree on everything, or that we would suddenly feel the same things in front of the same pictures (or when reading the same book), but rather that our debates and deliberations would come out of genuine aesthetic considerations and not politics, prejudice and fashion… And our hearts? Art is aerobic.
There is a constant exchange of emotion between us, between the three of us; the artist I need never meet, the piece of art in its own right, and me, the one who loves it and can no longer live independent of it. The triangle of exchange alters, is fluid, is subtle, is profound and is one of those unverifiable facts that anyone who cares for painting soon discovers. The totality of the picture comments on the totality of what I am.
We know that the universe is infinite, expanding and strangely complete, that it lacks nothing we need, but in spite of that knowledge, the tragic paradigm of human life is lack, loss, finality, a primitive doomsaying that has not been repealed by technology or medical science. The arts stand in the way of this doomsaying. Art objects. The nouns become an active force not a collector's item. Art objects.
The cave wall paintings at Lascaux, the Sistine Chapel ceiling, the huge truth of a Picasso, the quieter truth of Vanessa Bell, are part of the art that objects to the lie against life, against the spirit, that it is pointless and mean. The message colored through time is not lack, but abundance. Not silence but many voices. Art, all art, is the communication cord that cannot be snapped by indifference or disaster. Against the daily death it does not die.
Art is not a little bit of evolution that late-twentieth-century city dwellers can safely do without. Strictly, art does not belong to our evolutionary pattern at all. It has no biological necessity. Time taken up with it was time lost to hunting, gathering, mating, exploring, building, surviving, thriving. Odd then, that when routine physical threats to ourselves and our kind are no longer a reality, we say we have no time for art. If we say that art, all art is no longer relevant to our lives, then we might at least risk the question "What has happened to our lives?" The usual question, "What has happened to art?" is too easy an escape route.
---
Workshops
The Art of Travel Photography:
How to Create Emotionally Compelling Travel Images
Join Lorne as he teaches you the keys to creating emotionally compelling nature, landscape, people, wildlife and travel images. This limited selection of unique workshops, geared toward every participant skill level, will provide you with an exceptional learning experience in some of the most beautiful places on Earth, including Cuba and Africa. To see Lorne's entire workshop schedule for his Art of Travel Photography workshop series, please visit http://www.lorneresnick.com/workshops

Cuba Workshop

Death Valley Workshop

Monument Valley Workshop